a fanmix for
murf1307's
angelic_bigbang fic Take Ten Steps Home.
link to the mix coming soon. click on the cover art behind the cut to download the fanmix.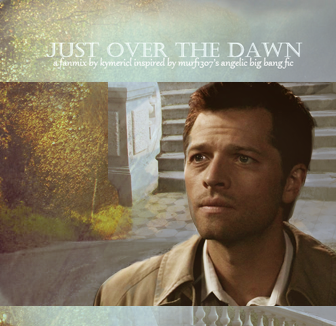 01; GOING UNDER

>>EVANESCENCE

I'm going under, drowning in you. I'm falling forever, I've got to break through. So go on and scream, scream at me, I'm so far away. I won't be broken again. I've got to breathe, I can't keep going under.

02; BLEAK

>>OPETH

Beating: heart still beating for the cause. Feeding: soul still feeding from the loss. Aching: limbs are aching from the rush. Fading: you are fading from my sight.

03; ALTER EGO

>>TAME IMPALA

The one from our dream is sitting right next to me and I don't know what to do.

04; BENEATH THE SURFACE

>>DREAM THEATER

Until one day you stopped caring and began to forget why I tried to be so close. & you disappeared into the darkness, & the darkness turned to pain and never went away. Until all that remained was buried, deep beneath the surface.

05; FIRE AND ICE

>>WITHIN TEMPTATION

& I still wonder why Heaven has died. The skies are all falling, I'm breathing but why? In silence I hold on to you and I. Closer to insanity buries me alive. Where's the life we once had? It cannot be denied. Why can't you see what we had? Let the fire burn the ice. Where's the love we once had? Is it all a lie?

06; THE DRAPERY FALLS

>>OPETH

I'm counting nocturnal hours, drowned visions in haunted sleep. Faint flickering of your powers leaks out to show what you keep. Pull me down again and guide me into... there is failure inside. This test I can't persist.

07; ON THE BACKS OF ANGELS

>>DREAM THEATER

Standing on the backs of angels, destined to create. Mounting the attack while heroes carry your weight.

08; WHEREVER YOU WILL GO

>>CHARLENE SORAIA

& maybe I'll work out a way to make it back some day, to watch you, to guide you through the darkest of your ways. If a great wave shall fall, it would fall upon us all. Well, I hope there's someone out there who can bring me back to you.

09; STEPS

>>SECRET GARDEN

[instrumental]

10; TO THE ONE WHO KNOWS

>>YANNI

[instrumental]

11; DEATH OF A SUPERNATURALIST

>>THE DIVINE COMEDY

Kiss what can't be kissed, this is the risk we have to take. Heal what can't be healed, & feel the dead skin fall away. Only you and I know exactly how it feels to unblinker a narrow mind and by doing so reveal the obscurity of life, the intensity of dreams. Only you and I have realised exactly what it means.

12; STRANGENESS AND CHARM (LIVE)

>>FLORENCE + THE MACHINE

There is nothing like this, it's the purest element but its so volatile. An equation Heaven sent that you'll forever inject.

13; THE SALTWATER ROOM

>>OWL CITY

Time together is just never quite enough. When we're apart whatever are you thinking of? What will it take to make or break this hint of love? So tell me darling, do you wish we'd fall in love? All the time.

14; STAIRWAY TO THE SKIES

>>WITHIN TEMPTATION

& Heaven was waiting for me. I thought this would be the end, but I know you'll understand all that is keeping me here. I dream of a stairway to the skies. My angel is coming down from Heaven to take me. I reach out but then you fade away. Whenever you call for me know that I'm only one step behind.

15; GOING HOME

>>MARY FAHL

They say there's a place where dreams have all gone. They never said where but I think I know. It's miles through the night, just over the dawn, on the road that will take me home.



images from: It's-Only-Stock [1], It's-Only-Stock [2], & LevanaTempest.
brush from: Falln-Stock.
texture from: Insan-Stock.
screencap from: Home of the Nutty.